Latest on Bargaining with NMSU (June 13, 2023) 
We were back at the bargaining table with NMSU today to continue negotiations for increased tuition coverage. It was the university's turn to provide a counter-proposal to our proposal which we introduced during the initial bargaining session last month, which requested increases in the number of credits covered and set specific timelines for when tuition refunds would be delivered.
After almost a month to come up with a response, NMSU's counter proposal unfortunately failed to address any of our proposed items, even logistical items that don't cost money. They did not even come prepared with information we had requested over a month ago.
The university wants to remain at the bare-minimum coverage agreed upon in the current bargaining contract and make no moves to improve the conditions for graduate workers at NMSU. Despite a significant amount of money being appropriated by the state for graduate worker tuition at this year's legislative session, NMSU feels that the money they will save in tuition reimbursements could be better used to fill unrelated holes in their budget. When we asked where they planned to allocate tuition scholarship monies that will now be covered by new legislative funds they vaguely stated that "buildings needed repairs" as if NMSU does not already receive monies specifically for building maintenance and improvements.
We remain firm in our current proposal for increased tuition coverage and developing specific guidelines for disbursement of funds. Bargaining will resume next week, and we hope that NMSU will be able to provide an actual, adequate counter-proposal.
If you haven't already, you can sign on to our letter to Provost Shoho asking him to respect our grievance process. If you have any extra time this summer and want to help the union out, check out our Action List for some ideas of how you can help sustain the grad worker movement at NMSU, or join our slack channel for the most recent updates on organizing, bargaining and actions.
In Solidarity,
Your Bargaining Team
David Aviles-Rodriguez, Trevor Karpinski, Hannah Sun, Regan Cadena, Julia Olson, and Riley Schaner
Past Updates 
(see news archive)
March 2023: Tuition negotiations begin again on May 19th, 2023! On March 30th, 2023 we submitted our request to formally re-open tuition negotiations to expand tuition coverage for graduate workers. We spent the winter lobbying our legislators and now NMSU is scheduled to receive a $25 million increase in Instruction and General funds that could be applied to tuition and a new statewide fund for graduate scholarships.
December 2022: We have ratified our first contract with the administration! This is a first step in the right direction. We are still fighting for tuition coverage and reasonable health insurance for all New Mexico State University graduate students and we FINALLY have got some momentum in bringing about fair negotiations with NMSU.
Read the summary of the contract here and view the full contract here.
Did you know that 80% of NMSU's peer institutions offer tuition coverage for graduate employees but NMSU grads are forced to pay to work?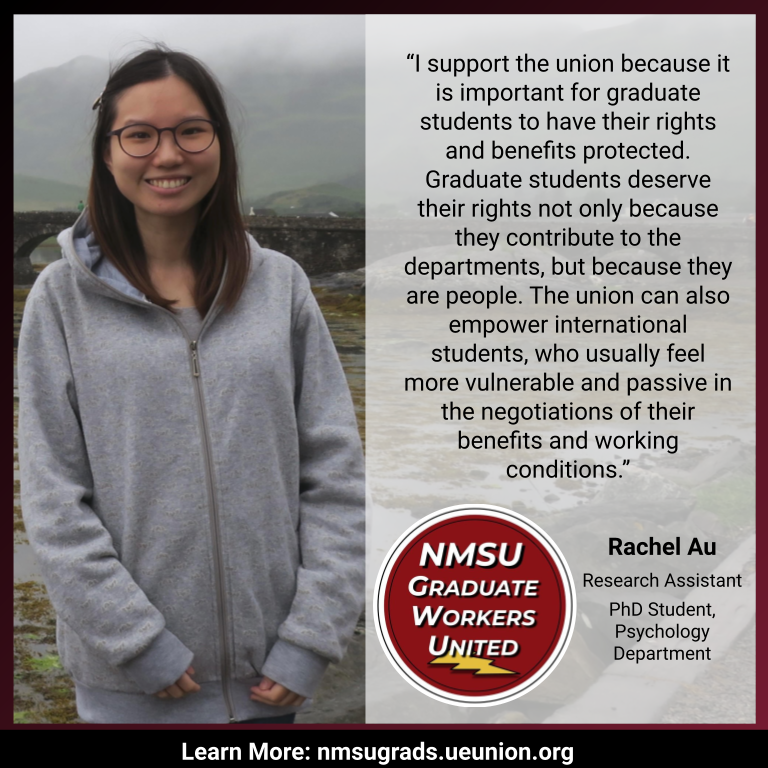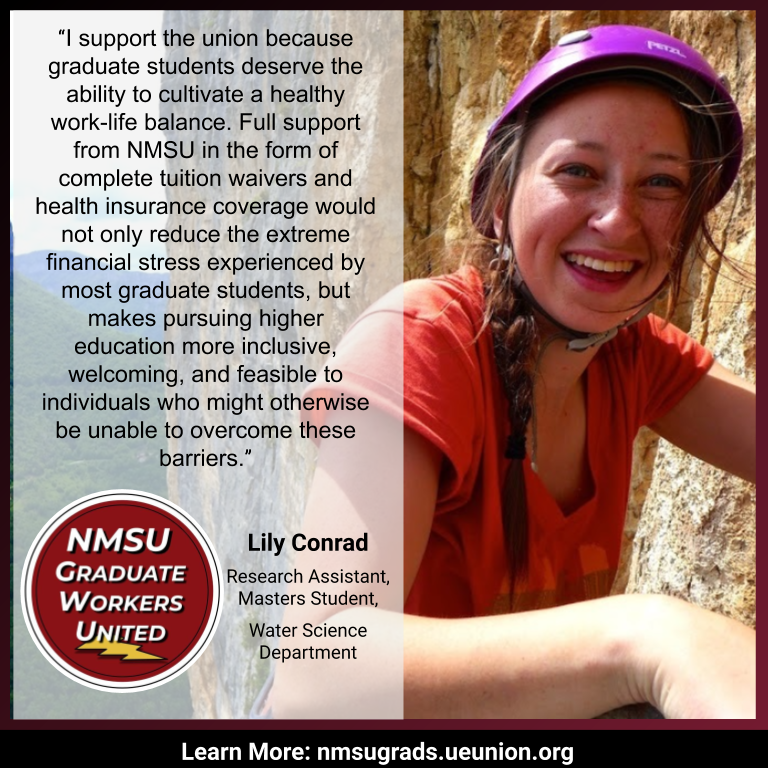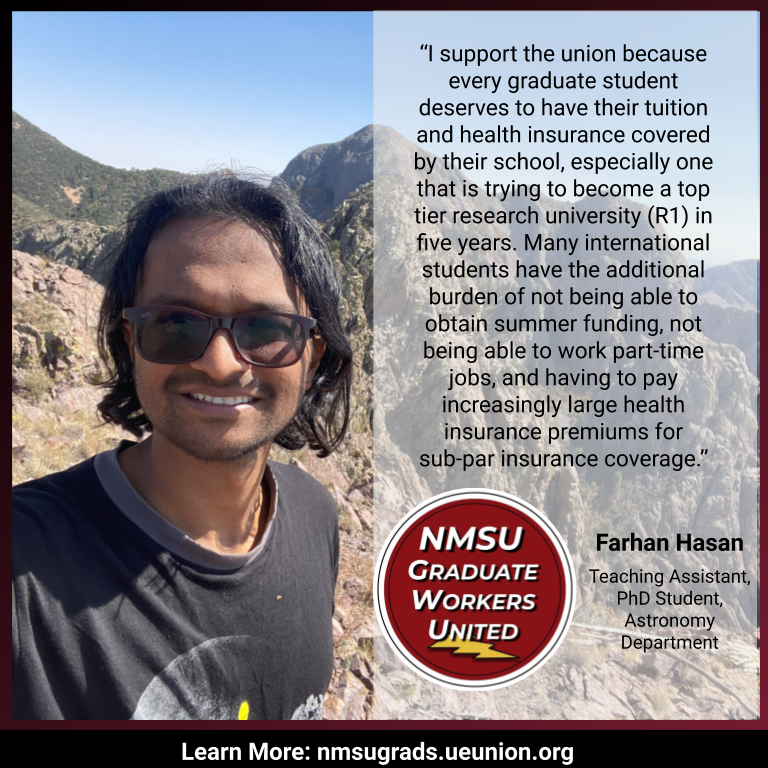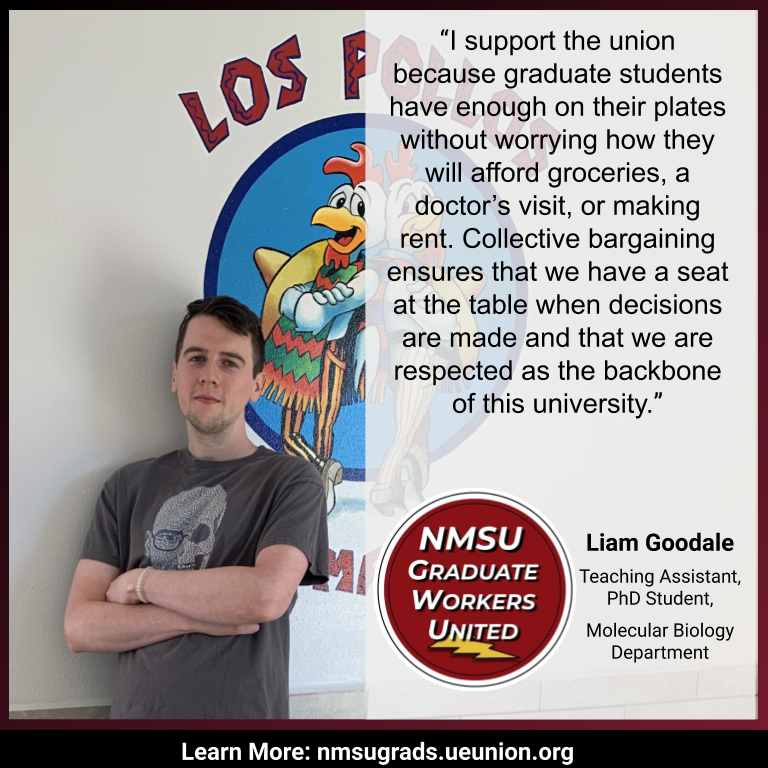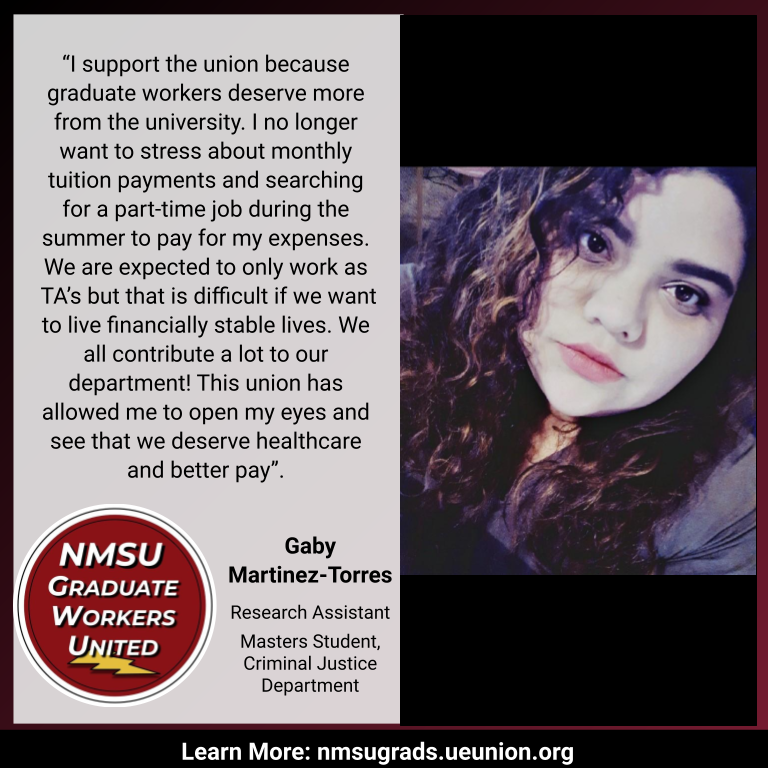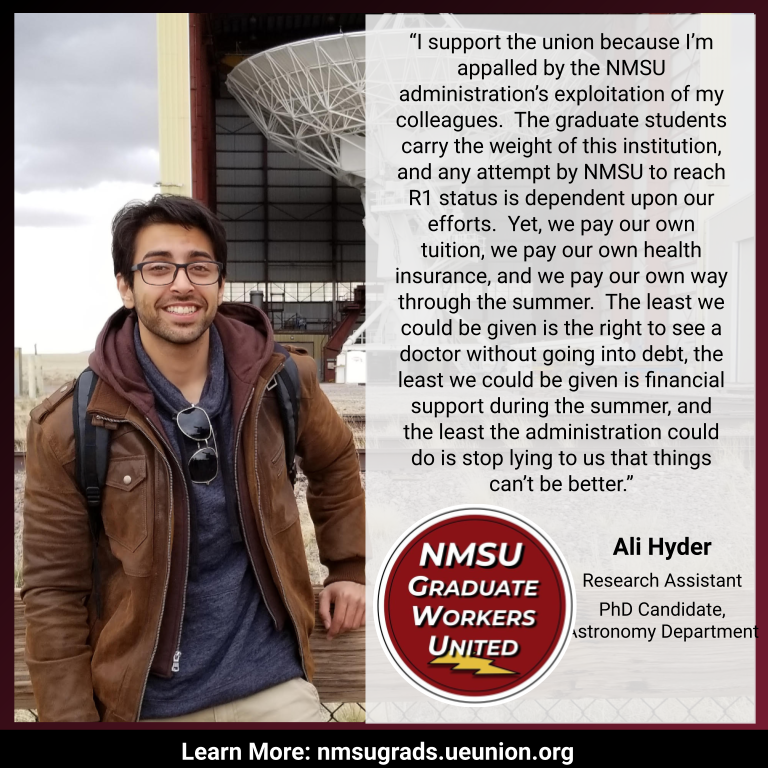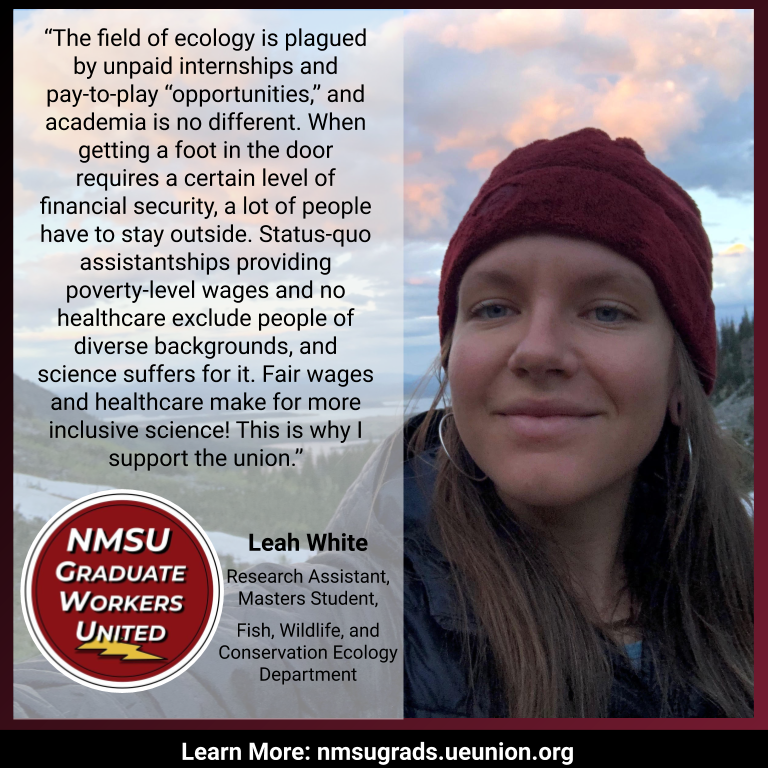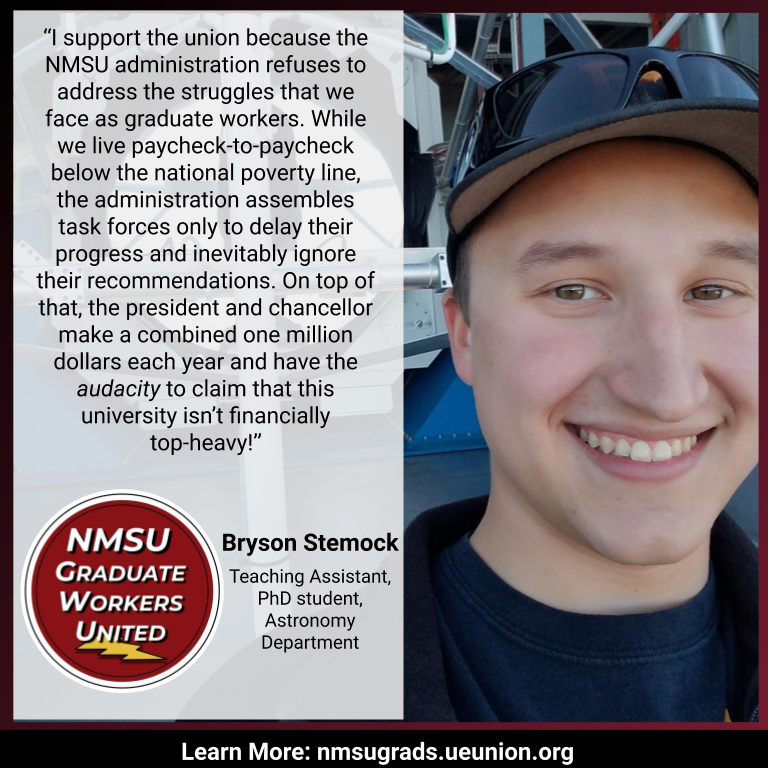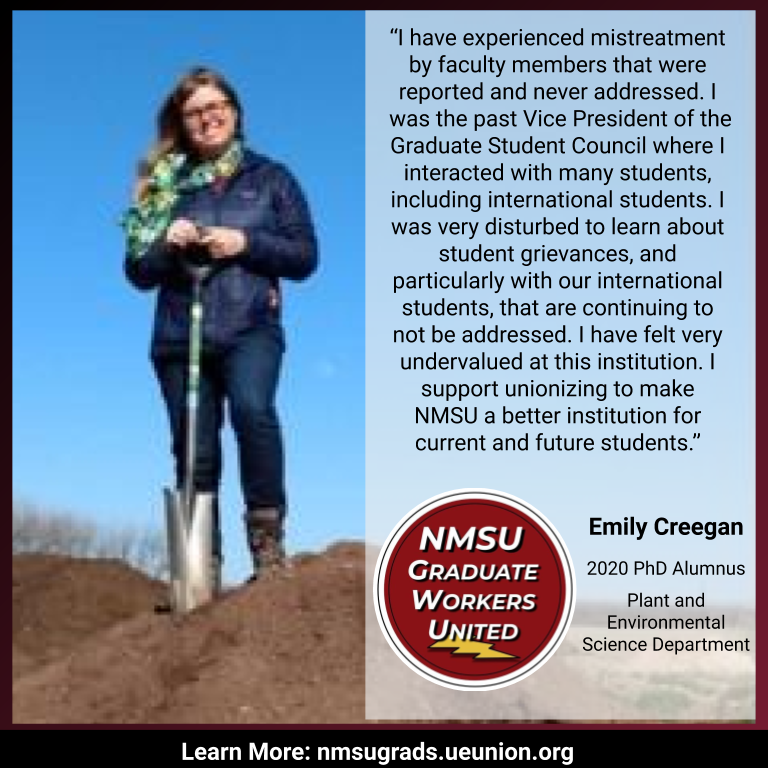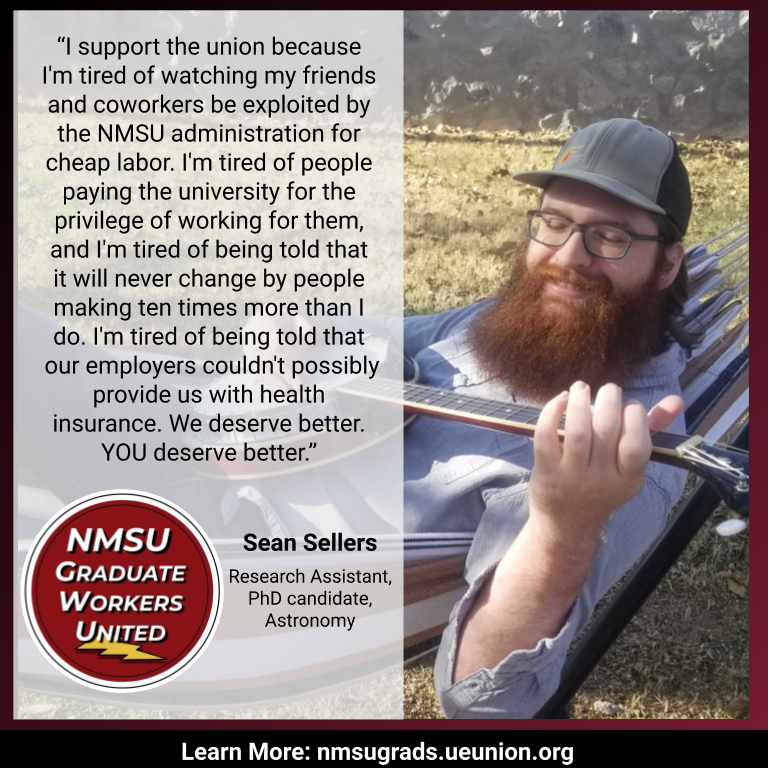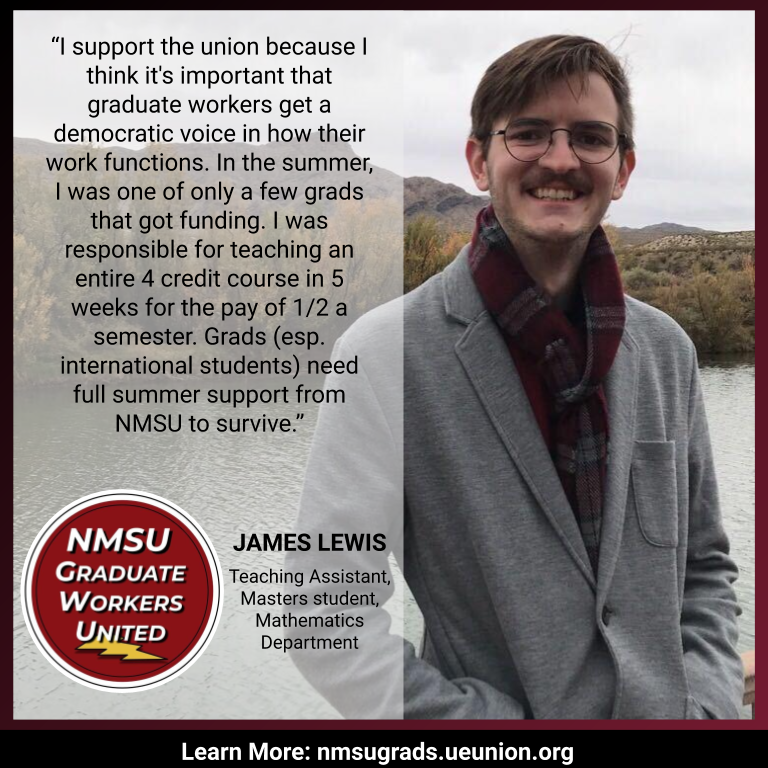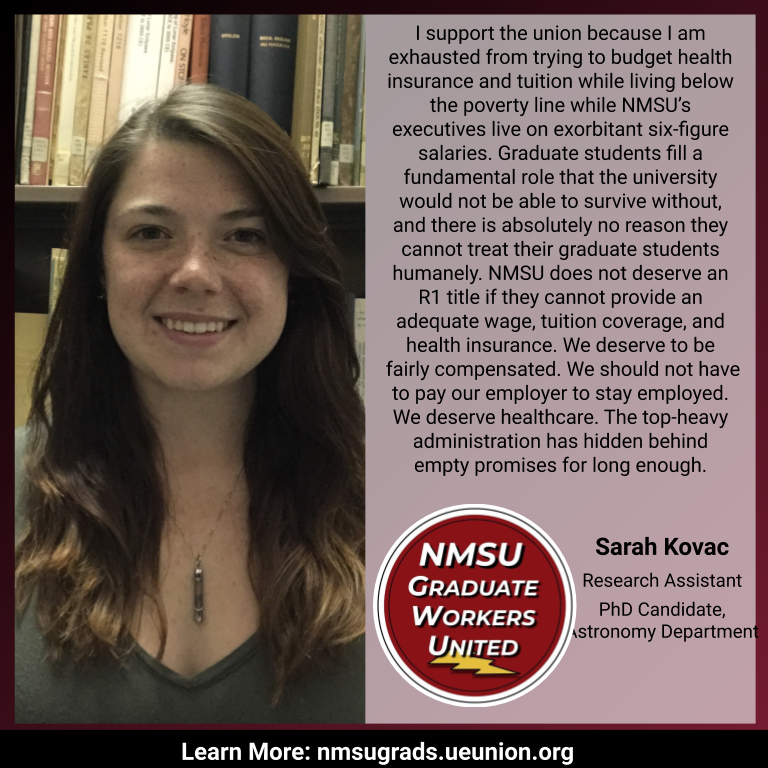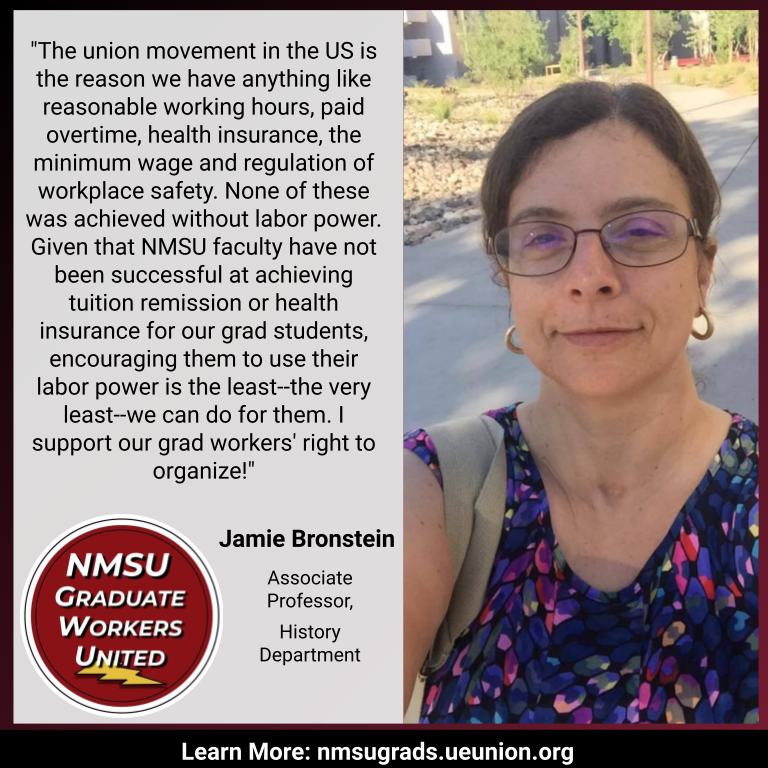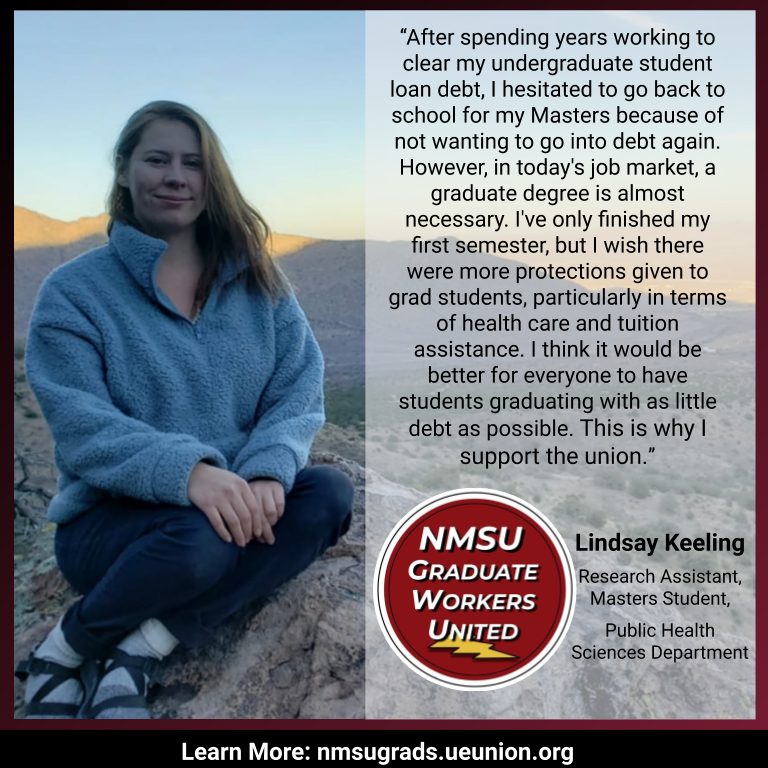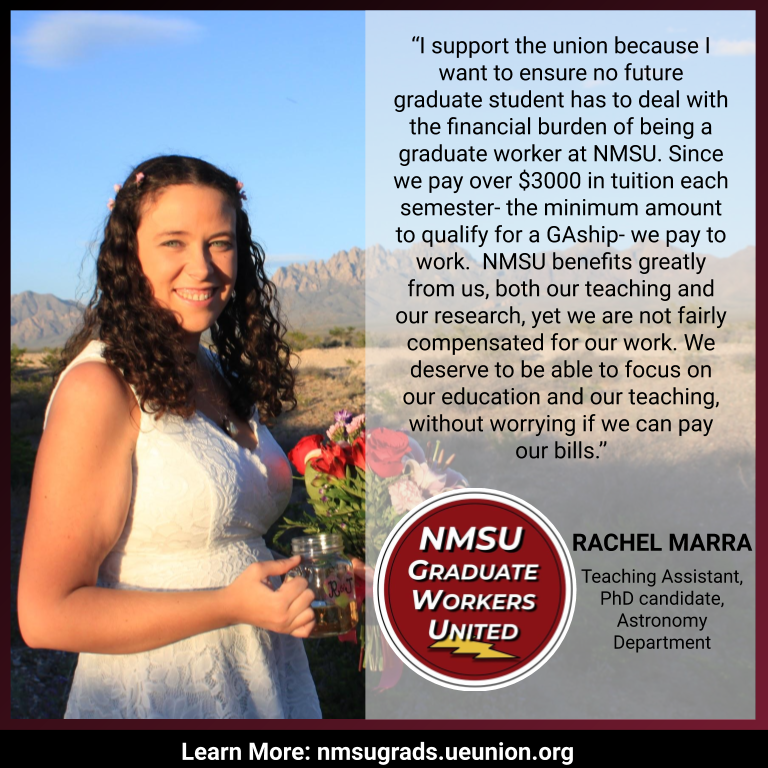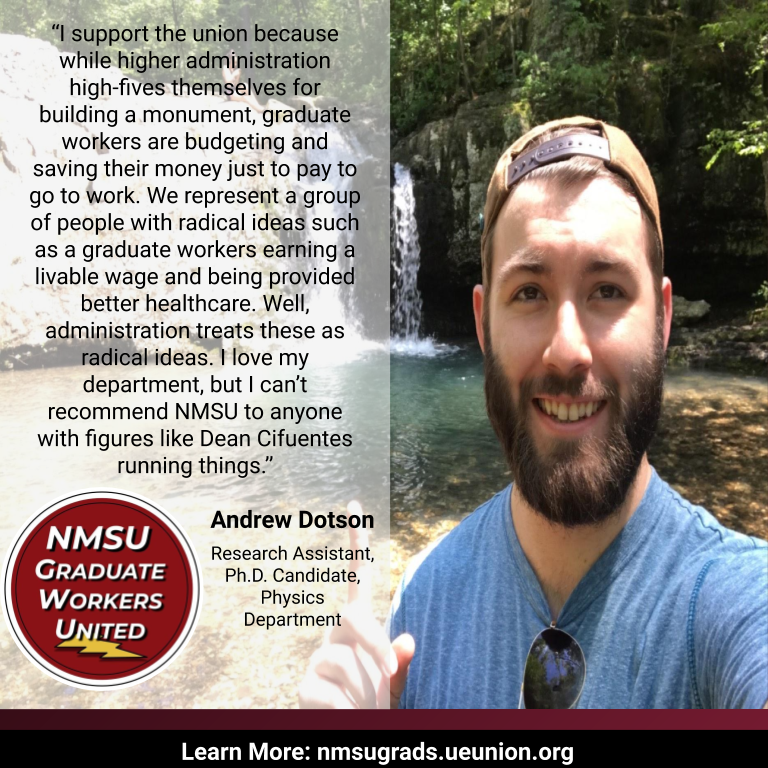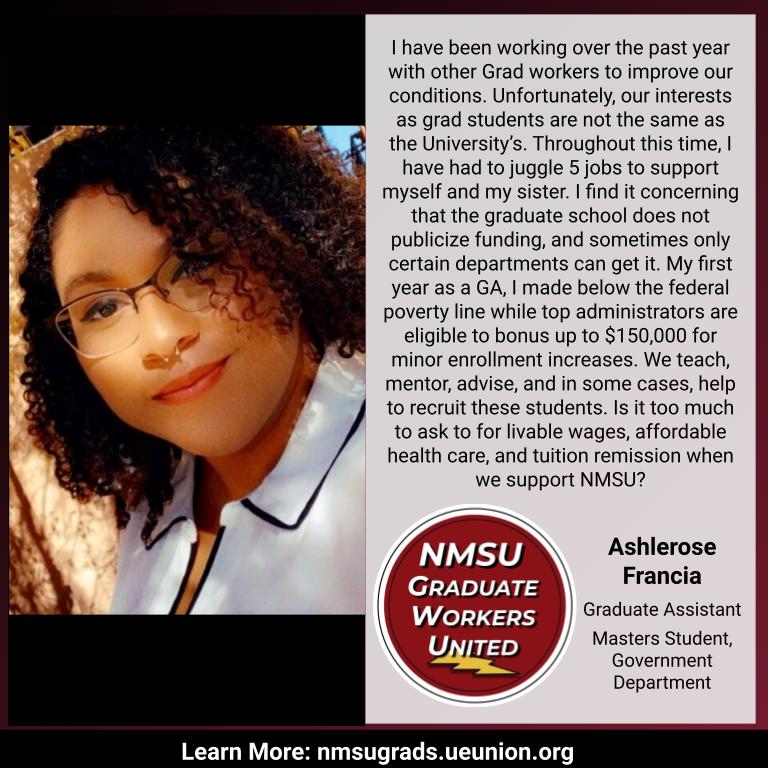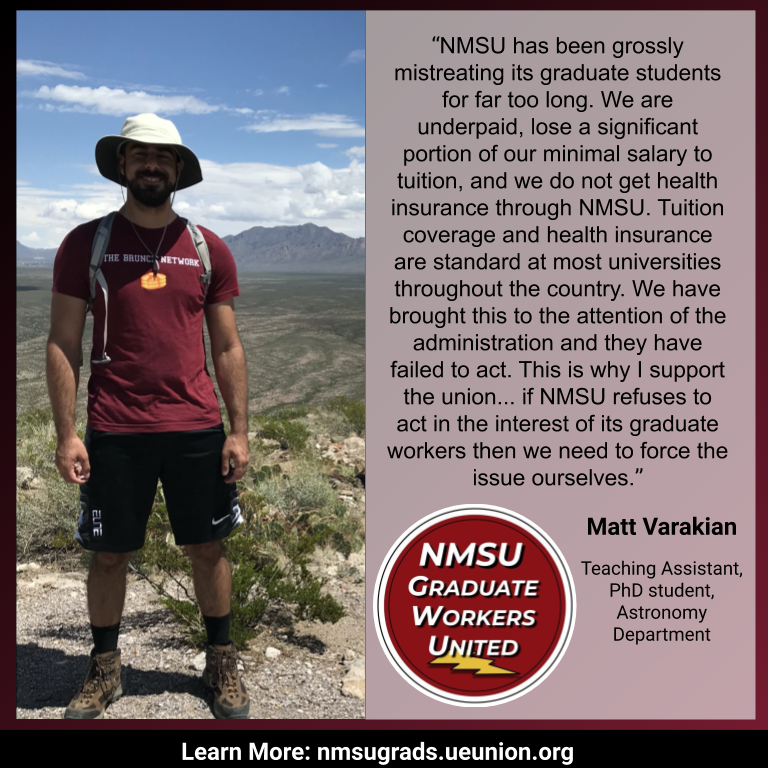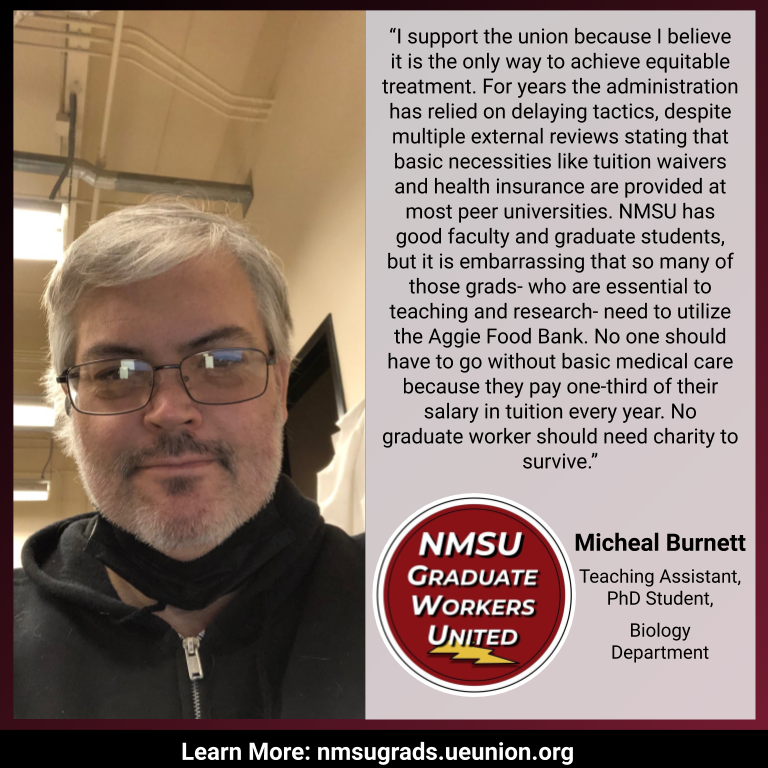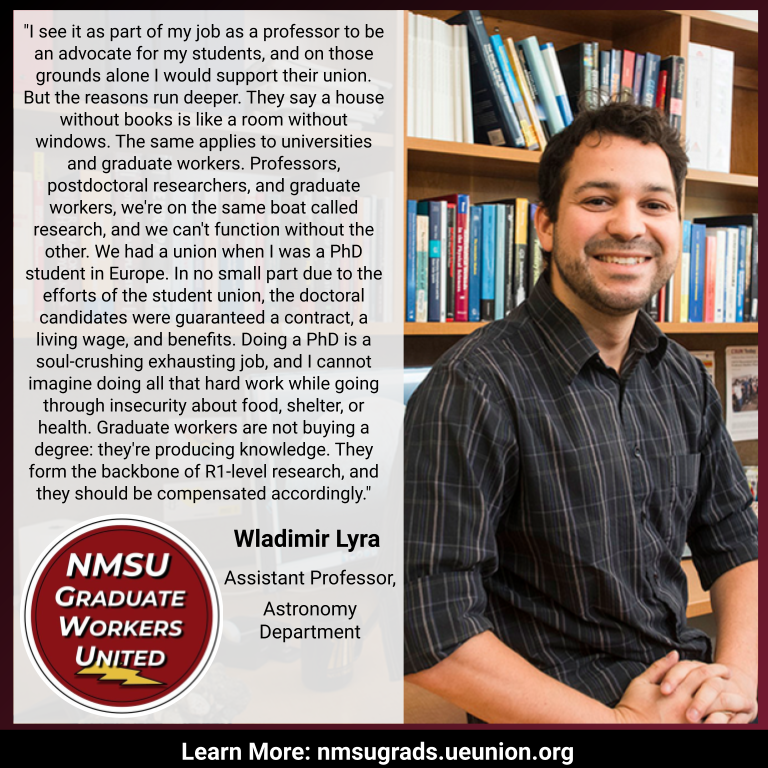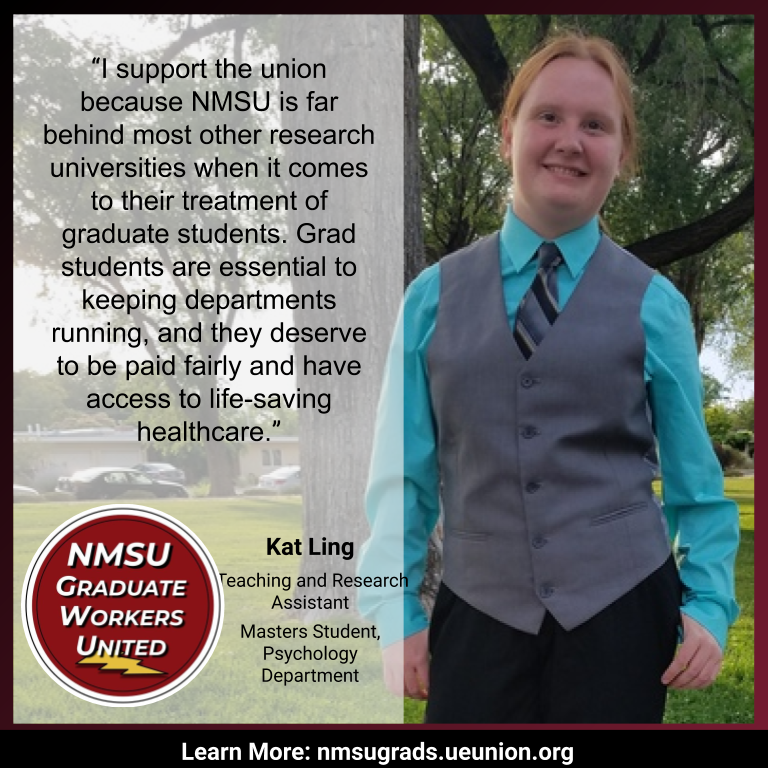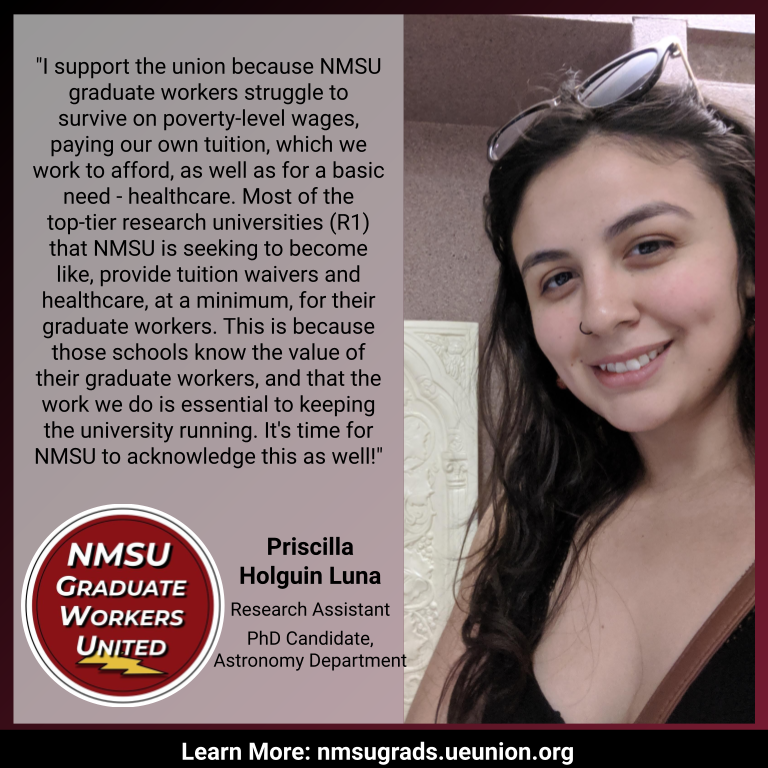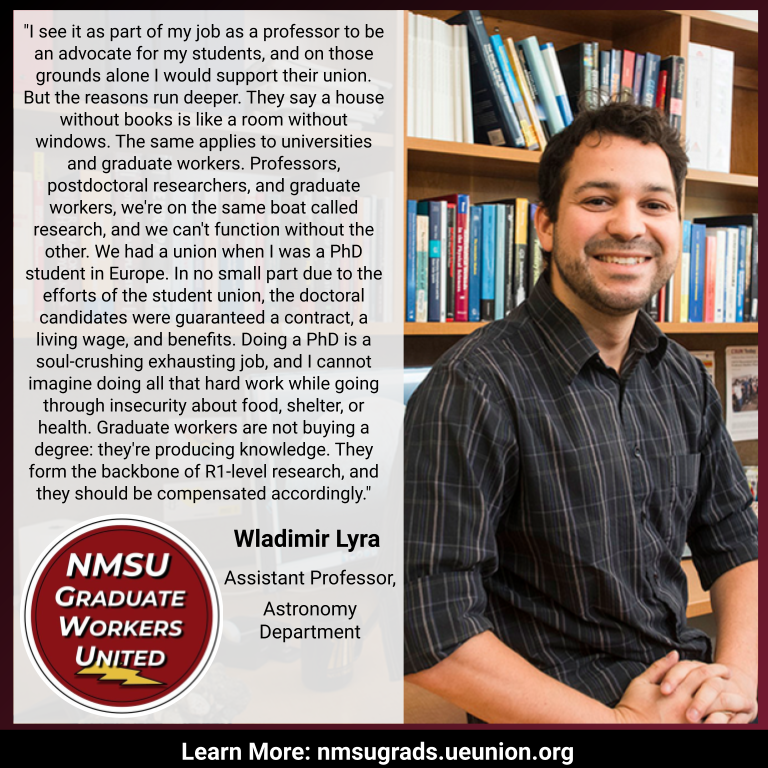 Over 800 graduate workers, including TAs, GAs, and RAs, perform work critical to the university's core mission as a center for education and research, and our labor is the backbone of the University.
Yet, unlike many peer institutions, NMSU does not provide health insurance, tuition remission, or summer employment to most graduate workers.
Now is the time for graduate workers join together and demand the working conditions and basic employment rights we deserve!